Print at home, Pre-printed and Merchandise! All for your outreach and advocacy needs.
Create Your Own
We've learned that the more personalized the material we send to legislators, the more likely they are to read and take note.

Multiple copies of one postcard? Good.

Multiple individualized postcards from constituents? Even better.

We have a space with more ideas for making your own cards, or encourage you to host a party or Zoom meeting with friends, family and neighbors to get the message to our lawmakers.

Collect petition signatures!
Here's a petition sign up form you can download and gather signatures from your friends and neighbors. Directions on where to send completed forms are at the bottom of the form. Every signature counts!
Printable Materials
Download our LACRA Support Postcard to send to legislators with a personal message

General info Poster about Gerrymandering, with tear off slips - 8.5 x 11

General Info Gerrymandering Poster - 8.5 x 11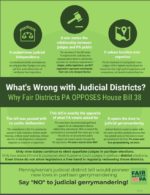 What's Wrong with Judicial Districts? Flyer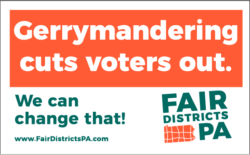 Yard Sign 18 x 24 (take to a professional printer)
Pre-printed materials to order!
Materials available in quantities of 25, 50 or 100. While cards and postage are free, donations are welcome.

Three postcards promoting current legislation asking legislators to support: Icons, Checklist or Thought-bubble. Order one style or a mix of the three.
Informational rack card Informational postcard
Text to Join business card sized handout
Want some Fair Districts PA merchandise?