We can stop partisan gerrymandering in Pennsylvania for good by changing the redistricting process.
The key change: independent citizens commission
Create an impartial, independent citizens commission to redraw our district voting lines rather than politicians with a vested interest.
States with citizen commissions have seen improvements in representation, competitiveness and voter trust. Each state has a different process for drawing lines AND for changing the process. In Pennsylvania:
What it will take
Fix Congressional redistricting:
An act to change the redistricting process is passed by the General Assembly then signed into law by the governor. This can be done in one session.
Fix State legislative redistricting (for state house and senate elections):
Switching to an independent commission means passing a constitutional amendment. Here's what that takes:

Both the PA House and Senate must approve the same fair-districts amendment during a single session
Both House and Senate must approve it again in the next session
Citizens must ratify the amendment in a referendum
That's no easy task, but once a fair-districts policy gets to voters, they tend to approve it by huge margins.
In other words, we can do this. But we need your help to put the pressure on Harrisburg to make it happen.
Our timeline
The timeline is tight, but it can be done.
Representatives Tom Murt (R - Montgomery/Philadelphia counties) and Steve Samuelson (D - Northampton County) have introduced House Bill 22 and House Bill 23, two bills designed to create one independent citizens commission in time for the next round of redistricting following the 2020 U.S. Census.
HB 22 amends the PA Constitution to create an independent commission for both congressional and legislative redistricting.
HB 23 creates an independent commission just for congressional redistricting.
The bills create a commission in charge of both legislative and congressional redistricting. It will be charged with analyzing Census data and drawing district maps. The commission will have to hold public meetings across the state before maps are drawn, and again after to collect feedback.
When HB 23 passes in the 2019-20 session, selection and training of commissioners could start. Since a constitutional amendment takes three steps, the earliest voters could approve the new commission would be the May 2021 primary election. At that point, the new commission would be given the additional jobin time for a November 2021 deadline.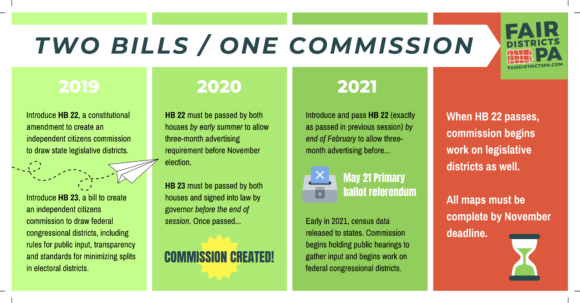 What's happening in the Senate?
Two senate bills have been drafted that match the language of HB 22 and 23. They will be numbered SB 1022 and 1023 so they are instantly recognizable. When these reserved numbers come available, the bills will be introduced. In the meantime, Senator Boscola is accepting cosponsors for soon-to-be SB 1022 and Senator Killion is accepting cosponsors for the upcoming SB 1023.
Independent commission best practices
Redistricting Reform: What Works, Brennan Center for Justice, 2018
Designing an Independent Redistricting Commission, Campaign Legal Center, 2018
---