A just-released Franklin & Marshall College survey of registered voters shows overwhelming support for an independent citizens commission.
The poll of registered voters shows seven in ten (67%) Pennsylvania voters support an independent commission to draw legislative district lines. This includes majorities of Democrats (66%), independents (78%) and Republicans (63%).

The data confirms other recent surveys but gives far more insight into reasons for dissatisfaction with the current process:
72% believe the current system of drawing legislative districts allows party leaders to put party interests above voter interests
70% believe the current system creates polarization and gridlock
65% believe the current system lets elected officials choose their voters instead of voters choosing them
62% believe the current system gives voters fewer choices on Election Day
61% believe the current system of drawing legislative districts prevents voters from holding their representatives accountable
Support for an independent commission is high across all demographic groups and throughout the state's diverse geographic regions. Majorities in every region of the state responded in favor of an independent commission, with 71% support in central Pennsylvania, 70% in Allegheny County, 69% in Philadelphia and 65% in the northeast.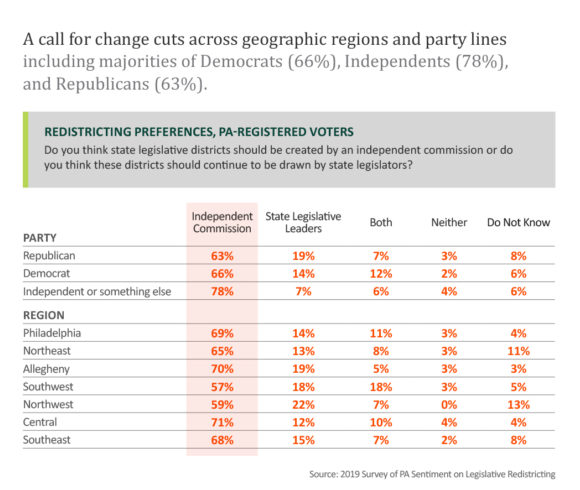 This will be an election issue in 2020: 59% of respondents said they were more likely or very likely to support legislators who vote for an independent citizens redistricting commission.

Help us share this new information with legislators, press and local officials.
---
Please forward it to members of your local press.
Use it as the basis for your own letter to the editor or local PATCH report.
Email it as an attachment to legislators and policy staff, thanking them for their support or urging support of House Bills 22 and 23.
Share it with county commissioners or other elected officials, thanking them for resolutions of support or asking them to pass a resolution.
Print some to share when you visit your legislators.
Bring copies to association and organizational events.
Watch for and share posts and graphics about this on Facebook, Twitter and Instagram.
---
Sponsored by the League of Women Voters of Pennsylvania and Fair Districts PA, the poll was designed and administered by the Center for Opinion Research at Franklin & Marshall College. There were 901 interviews conducted with registered voters between August 20, 2019, and September 10, 2019.