The transparency bills, House Bill 22 and Senate Bill 222, also called the Legislative and Congressional Redistricting Act (LACRA), are now officially introduced with co-sponsors from both parties. It's time to invite more co-sponsors and ask support for a vote.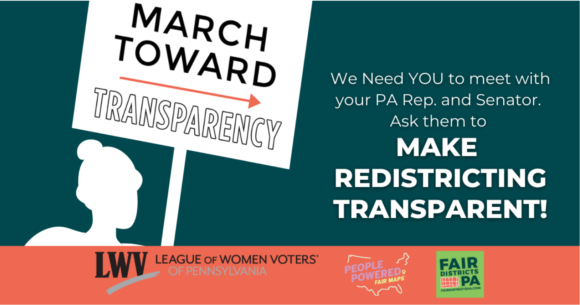 Anyone can be an advocate. We invite you to be one as we ask for redistricting reform.
March toward Transparency sets a high goal: constituent meetings with every PA state legislator about the need to pass LACRA quickly. PA needs plans in place NOW for a fair, transparent redistricting process.

Pennsylvanians who want to see fair maps in place for 2022 are invited to be part of a constituent advocacy team to meet with their own PA senator or representative. These constituent teams will be asking for co-sponsorship of the LACRA or saying thank you and asking for further support if the legislator has already co-sponsored.

A volunteer captain will help arrange the meetings, putting constituents in touch with others in the same district. Materials and coaching will be provided to ensure a successful Zoom meeting.

Sign Up to Join a Constituent Team
---
LACRA Next Steps Town Hall
As preparation for legislator visits on LACRA or for future advocacy on other issues you can care about, volunteers are encouraged to attend the March Toward Transparency LACRA Next Steps Town Hall on March 3 from 4 to 5:30 PM [recording of event below].

Anyone can be an advocate. Volunteers new to advocacy will share their experience. Fair Districts PA advocacy coaches will explain the team approach and offer talking points about LACRA. Several legislators will share their own perspective.