The Legislative Reapportionment Commission voted today on new PA House and Senate maps.
Let's take a minute to celebrate: the Legislative Reapportionment Commission met on Feb. 4th, to vote on new PA House and Senate maps. These are the result of months of hearings, public comments, expert testimony and partisan acrimony. While we're still assessing the maps, we can say with certainty: these maps are better for the people of Pennsylvania than the legislative maps of the past two decades. They are more compact, split less jurisdictions and will be more responsive to PA voters.
We also want to thank Chairman Mark Nordenberg, the commissioners and the commission staff. The process as it currently exists is constructed to be highly partisan and to allow caucus leaders a strong say in protecting incumbents. While we will continue to work for an independent citizens redistricting commission, we appreciate Chairman Nordenberg's efforts to provide the most public, non-partisan process possible given the current constraints.

Previewing PA House and Senate Maps:
Feb. 9, 7 to 8:30 pm.
Our FDPA mapping team spent time looking more closely at maps and metrics and ways to compare the new maps with the current district plans.

We will certainly be hearing more complaints from legislators unhappy with the newly drawn districts. It's not possible to correct two decades of distorted districts without significant changes to those districts. In some places, multiple legislators live in close proximity in regions where population change and more compact districts put two incumbents into primaries. This is unfortunate but in some cases unavoidable. In other places, changes have shifted partisan composition of districts slightly, making some districts less and others more competitive. While every incumbent would like their own custom district, changes are inevitable in correcting past gerrymanders.
As we saw in the voting meeting, public comment and suggestions from legislators yielded some improvements from the preliminary maps. Other changes we hoped to see did not take place. We know every change requires further changes. We also know every map is a balancing act between multiple, often competing concerns.
We applaud this step toward a more transparent process and look forward to a more accountable legislature as these new maps are used in the next decade of PA elections. Thanks for work, energy and support in this ongoing effort.
Check out Spotlight PA tool to find your new districts.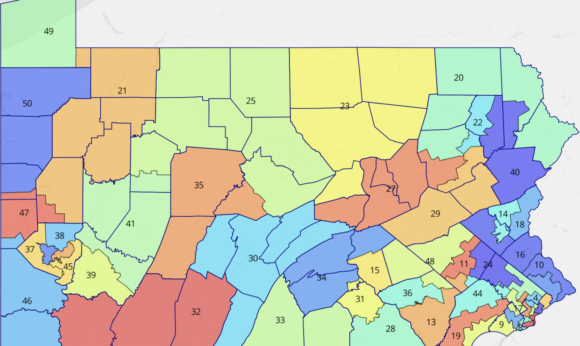 Watch the hearing & find links
Compare maps on our FDPA map page