We gathered with six other organizational leaders to demand changes to the PA General Assembly procedural rules seeking to #FixHarrisburg.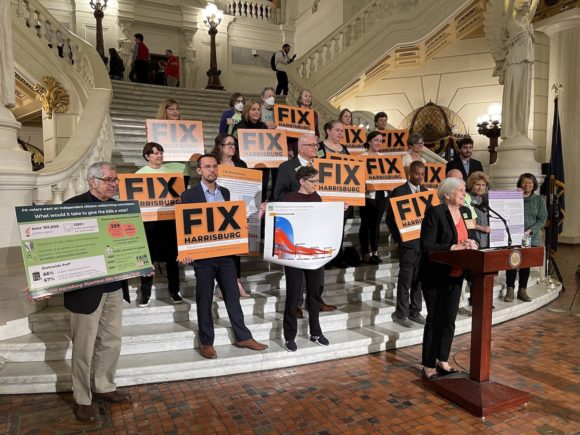 Members of Fair Districts PA (FDPA), joined by leaders from six other non-profits, gathered in the State Capitol Rotunda Wednesday morning to announce a cooperative effort to Fix Harrisburg. Each of the seven organizations are united by their common experience of having bipartisan legislation they support blocked by procedural rules year after year—in some cases for decades.
Carol Kuniholm, FDPA Chair, opened the press conference noting that procedural rules "…shut out our voices in Harrisburg" and that "bipartisan solutions deserve a vote."
League of Women Voters of Pennsylvania (LWVPA) Executive Director, Meg Pierce recounted the decades long history of seeking redistricting reform in Pennsylvania. Despite public support and bipartisan support in the legislature legislative rules have been used to block any progress.
Susan Spicka, Education Voters of Pennsylvania Executive Director shared her organization's similar experience with popular bills for school funding reform to enact common sense legislation correcting charter and cyber school funding which siphons money away from public school districts without consideration of the cost of the services the non-public schools are providing students.
Michael Pollack, March on Harrisburg Executive Director, made the case to Fix Harrisburg so that wildly popular reforms—such as the gift ban his organization has been seeking to pass for years, become law. "Money," he said, "is running the legislature. "There are 203 Representatives and 50 Senators in the legislature. They don't count, in Harrisburg only six votes matter. If any one of six majority party leaders do not like a bill that bill won't pass. We no longer have a representative democracy in Pennsylvania when one of six votes outweighs the rest of the legislature and the will of the people."
Pat Christmas, Committee of 70 Policy Director, noted that the rules written by the majority party leaders prevent majority rule in the legislature. Procedural rules allow partisan gatekeepers to control the agenda, block reform and shut out our voices in Harrisburg.
Johanna Byrd, National Association of Social Workers-Pennsylvania Chapter Executive Director, spoke about the importance of legislative action on telehealth. Emergency declarations put in place at the beginning of the pandemic have expanded access for many in need of care, particularly with mental health providers. Those provisions will expire sometime soon. The PA Senate passed a bill addressing this, but the House has so far ignored it.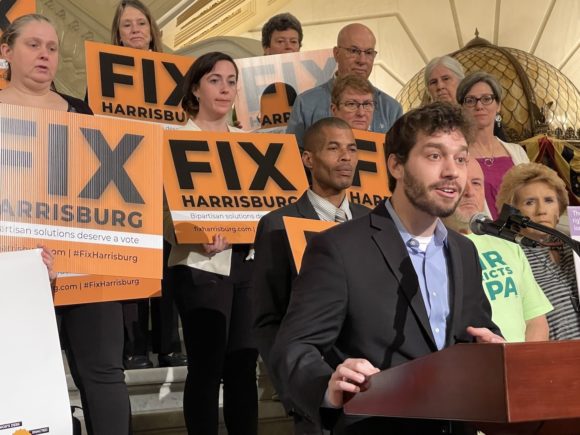 Each group leaders' story fit seamlessly into the Fix Harrisburg narrative. Every plot was remarkably similar:
Reform legislation, with bipartisan and public support,
Dies in committee, or is amended out of existence, or is never scheduled for a vote
Under the procedural rules written by Majority leaders and designed to give them complete control over the legislative agenda without regard to the wishes of the rank and file legislators or the public.
The six organizational leaders agree: unfair rules slam the door on bipartisan solutions. Pennsylvania's legislative process is broken. It's time to Fix Harrisburg.