When the Census Bureau counts people every ten years, people in prison are counted as part of the electoral districts where they are incarcerated, rather than in their home communities. This distorts representation at local and state levels, giving prison districts undeserved strength in the state legislature and reducing the influence of communities whose populations are most impacted by incarceration.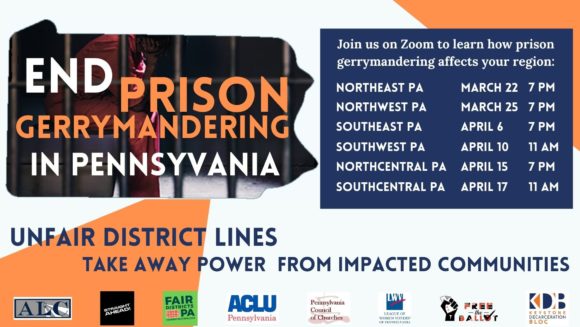 The practice defies most state constitutions and statutes, including the Pennsylvania election code (25 Pa.C.S. §1302(3)), which says

ʺ[N]o individual who is confined in a penal institution shall be deemed a resident of the election district where the institution is located. The individual shall be deemed to reside where the individual was last registered before being confined in the penal institution, or if there was no registration prior to confinement, the individual shall be deemed to reside at the last known address before confinement."
Some states have addressed the Census Bureau practice through legislation or litigation. In PA, both have been attempted, so far with no success.
Fair Districts PA is partnering with the League of Women Voters of Pennsylvania, Decarcerate PA, the Abolitionist Law Center, Straight Ahead, Free the Ballot, Pennsylvania Council of Churches Advocacy and the ACLU - Pennsylvania in a series of forums about gerrymandering, prison gerrymandering and the impact of both on PA prison policy.
At the forums, individuals and family members most directly affected by mass incarceration and loss of representation will share their stories, while speakers from host organizations will provide background to put those stories in context. Come hear about how we can end this practice and bring fair political power back to the communities most impacted by mass incarceration in Pennsylvania.
Regional Forums (all Zoom events).
Registration links are below:
For a preview, watch a live-streamed forum hosted by some of the same organizations on January 6, 2021. More background is available from a breakout session on this issue at the FDPA conference in 2019.
Learn more about prison gerrymandering, implications and solutions at the Prison Gerrymandering Project.
---
Watch forum hosted on Jan 6, 2021
Watch Conference Breakout Session