Event Description
We're inviting Fair Districts PA members, endorsing organizations, allies, supporters, and friends to join us in Harrisburg to reclaim our democracy. We'll be holding a rally in the Capitol Rotunda and on the Capitol Steps at 2:30pm to insist our legislators enact an independent citizens commission. Support SB22/FixHB722. 

SIGN UP to let us know you'll be there!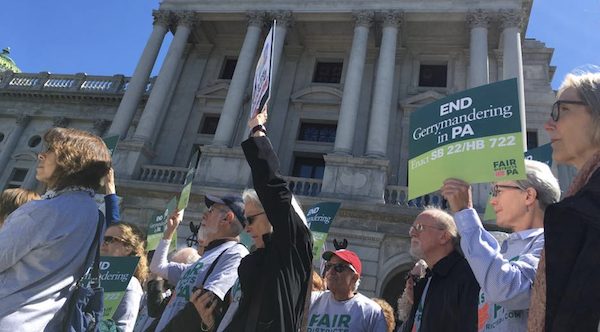 What's happening: 
During the week groups exceeding 20 MUST enter through the East Wing Entrance on Commonwealth Avenue (by the fountain). Capitol Police will not permit groups exceeding 20 to enter through the main entrance on Third Street during the week.
Program Overview:

Plan on your own: Capitol tour (every half hour on the half hour) OR to visit your legislator - schedule beforehand.
In Pennsylvania State Museum:
10:30-1:00 Speedy-video interviews with attendees about why reform is important to them…please stop by if you are interested! 
11:00 Meet Your Fair Districts PA Leadership Team
11:30 Preview Draw the Lines: Pennsylvania's first statewide redistricting competition
12:00 Meet Our Prime Sponsors
Lunch in the Capitol cafeteria, in nearby restaurants, or bring your own.

In Capitol Building:
1:00 Attend House or Senate in session for those interested
2:30 Rally starts in rotunda
2:45 Rally starts on capitol steps
3:00 Rotunda rally exits to merge with capitol step rally
3:30 Rally ends
4:30 Bus pick-up begins
Share your story with us!
If you are on social media, use this occasion to share your photos during the day. Point to the need for nonpartisan solutions. You can use these hashtags: #FixHB722 #SupportSB22 #ReclaimingOurDemocracy #PAFightsBack #EndGerrymandering #FairDistrictsPA

Transportation
Local Self-Organized Carpools: 
Some counties have set up method for carpools to get organized. Links are provided in the list below. Drivers sign up and indicate how many passengers they can take, set the location, and provide contact information. Passengers sign up for a car and provide contact information.

FDPA-organized bus: $20 a seat

We'll have buses coming from every corner of the state and are inviting all our endorsing organizations to join us. We're subsidizing the cost so all tickets, from every part of the state, will be just $20. Once you've signed up a follow up email will provide you with details on how to purchase a ticket, or purchase them here.
Bus Routes are listed below with departure times and addresses. Some details are still being determined and will be updated when available.
Meadville - Clarion - Dubois - Harrisburg 

7:00 am departs: Perkins Restaurant, 18276 Conneaut Lake Rd, Meadville, PA 16335

Time TBD: Clarion Mall, 22631 PA-68, Clarion, PA 16214; use the lot on the side of JC Penney

8:45 am departs: Pilot Travel Center, 1742 Rich Hwy, DuBois, PA 15801; Park in lot on the side of building, not spots reserved for customers
Pittsburgh - Bedford - Harrisburg 
8:00 am departs: Target Store, Harmar 2661 Freeport Rd., Pittsburgh, Pa. 15238-1441; Please park cars in parking lot area nearest Freeport Rd.

10:00 am departs:  Denny's Restaurant, 4276 Business Route 220, Bedford, PA 15522; Park in gravel lot next door NOTE: Drivers must leave license plate # with Denny's
Pittsburgh/Washington - New Stanton - Harrisburg (2nd bus added April 10)

8:45 am departs: Wal-Mart, 30 Trinity Point Dr, Washington, PA 15301— riders are to park in corner of lot furthest from building, closest to Trinity Drive. 
9:45 a.m. departs:   Eat'n'Park, 111 W. Byers Ave, New Stanton, PA 15672 - riders are to park at the end of the parking lot as far from the building as possible and leave license plate # with Eat'n'Park greeter
Williamsport - Shamokin Dam - Harrisburg 

8:30 am depart: Fullington bus terminal, 11 W Church St, Williamsport, PA 17701. Parking available at terminal for $5/day

9:30 am depart: Old Kmart parking lot; 3819 N Susquehanna Trail, Shamokin Dam, PA 17876
Scranton - Wilkes-Barre - Harrisburg 
9:00 am departs: Viewmont Mall, 100 Viewmont Mall, Scranton, PA 18508

9:30 am departs: Lowes at 501 Arena Hub Plaza, Wilkes-Barre Township, PA 18702. Park farthest away from the storefront parking spaces (across from Barnes and Noble).
Easton - Allentown - Hamburg - Harrisburg 
9:00 am departs: Home Depot; 721 S 25th St, Easton, PA 18045

9:30 am departs: Denny's Restaurant; 1871 Catasauqua Rd, Allentown, PA 18109

10:00 am departs: 100 Cabela Drive, Hamburg, PA 19526— turn right upon entering lot, park in furthest corner from building
State College-Harrisburg 
Reading - Harrisburg - NEW PICK UP LOCATION
9:30 am departs: Willoughby's On Park, 305 N. Park Road, Wyomissing, PA 19610
West Chester - Harrisburg  - NEW PICK UP LOCATION
Dolyestown - Harrisburg 
9:00 am departs: Fanny Chapman Pool, 10 McKinstry Dr, Doylestown, PA 18901
King of Prussia - Harrisburg 
9:00 am departs: 300 Goddard Blvd., King of Prussia—-Parking lot between IFLY, 290 Goddard Blvd, and IMAX  
Philadelphia - Harrisburg (second bus added April 10)
9:00 am both buses depart: 30th Street Train Station, 3125 John F Kennedy Blvd, Philadelphia, PA 19104
Driving
There are some nearby parking lots, but it's also very easy to find on-street parking on N. Third Street, right in front of the Capitol Building. You can pay by credit card in meters spaced periodically along the street.
Limited FREE Parking: 54 total spaces
HACC Midtown 2, Parking Lot #5, 1500 N 3rd St, Harrisburg, PA 17102. A ten minute walk to the capitol. Entrance to Parking lot is from Harris Street. 
ONCE THIS LOT IS FULL, NO OTHER PARKING AT HACC AVAILABLE – MUST FIND OTHER PARKING
Train
The Harrisburg Amtrak station is a short walk to the Capitol.

More resources
Here are some resources to help you on your way: 
Contact
Jo Johnson
rally@fairdistrictspa.com