Time is running out for a citizens redistricting commission in Pennsylvania. Unless bills are passed before our Legislature recesses for the summer, sometime later this month, there won't be time to change the PA Constitution before the 2021 redistricting.
We have been dismissed and ignored. Our legislators are not listening to the voices of their constituents.
TODAY, contact those who have power to make this reform happen.
Send a customized, personal email.
Post and comment on leader and caucus social media pages.
Like, share and retweet posts from @FairDistrictsPA.
---
Need something super simple to do instead? Send a pre-written email to all in just a few seconds. Add a subject, customize the message, end with your name and zip code.
*your email program should open when clicking on the button, if it does not, follow directions in "personalized email" for directions that are a bit more manual.
---
For a personalized email:
Click here to write your own email to all Legislative leaders
Write your message and hit send!
If the link above does not automatically populate addresses within your email, you can copy and paste all of these addresses on the "To" line:
geverett@pahousegop.com, mturzai@pahousegop.com, bcutler@pahousegop.com, jdisanto@pasen.gov, jscarnati@pasen.gov, jcorman@pasen.gov, info@fairdistrictspa.com
On social media:
Throughout the day, like, share and retweet posts from @FairDistrictsPA to make sure they're seen by as many as possible.
Tag legislative leaders and caucuses as you do.
Post and comment on leaders' and caucus pages.
Use the graphic below, combined with one or two of these simple messages:
If we can't translate the voice of the people into policy, our Legislature is broken.
We need structural change so EVERY voice is heard.
Gerrymandering is wrong, no matter who does it.
An overwhelming majority of Pennsylvania voters believe it's time for a citizens redistricting commission.
PA voters are tired of empty promises and partisan gridlock.
Why is it so hard to get a vote on bills with strong public support? Pass House Bills 22 and 23 / Senate Bills 1022 and 1023.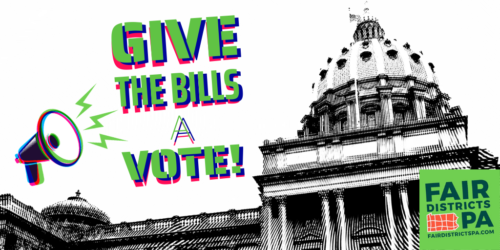 Use these hashtags:
#GIVETHEBILLSAVOTE
#CanYouHearUs?
#PAVotersWantFairDistricts
#DayofAction
#2bills1commission
#EndGerrymandering
#YourRightsYourFight
House and Senate Leaders' social media accounts:
Rep. Garth Everett: Facebook: @State Rep. Garth Everett
Rep. Mike Turzai: Facebook: @Speaker Mike Turzai; Twitter: @RepTurzai
Rep. Bryan Cutler: Facebook: @PA State Rep. Bryan Cutler; Twitter: @RepBryanCutler
Sen. Joseph Scarnati: Facebook: @Senator Joe Scarnati; Twitter: @senatorscarnati
Sen. John DiSanto: Facebook: @Senator John DiSanto; Twitter: @SenatorDiSanto
Sen. Jake Corman: Facebook: @Senator Jake Corman; Twitter: @JakeCorman
PA House GOP Caucus: Facebook: @pahousegop; Twitter: @PAHouseGOP
PA Senate GOP Caucus: @PASenateGOP; Twitter: @PASenateGOP
Want to do more?
Contact committee members who have not co-sponsored and can help get the bills a vote.